Sale price
$29.98
Regular price
Unit price
per
Real blood oxygen: COLMI C61 uses red light technology to measure blood oxygen health more realistically and accurately, and can monitor your health status.
Super chip: COLMI C61 uses RTL8762D chip and Bluetooth 5.1 low power consumption technology, which reduces power consumption by 20% and improves performance by 30% compared with the previous generation chip.
Larger screen: COLMI C61 uses a 1.9-inch IPS high-definition screen, and the narrow wall screen frame technology independently developed by COLMi, the overall frameless visual effect, nearly 95% of the screen ratio is the ultimate watch in the smart field.
View full details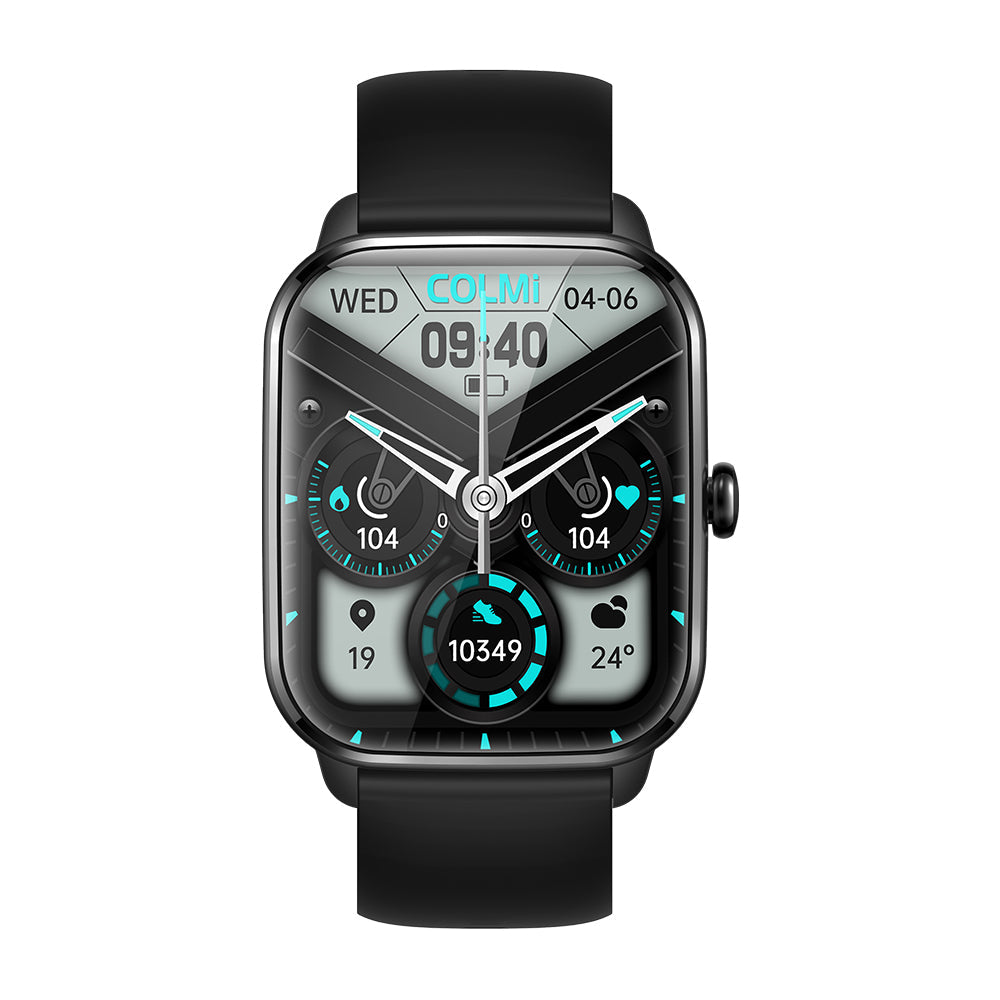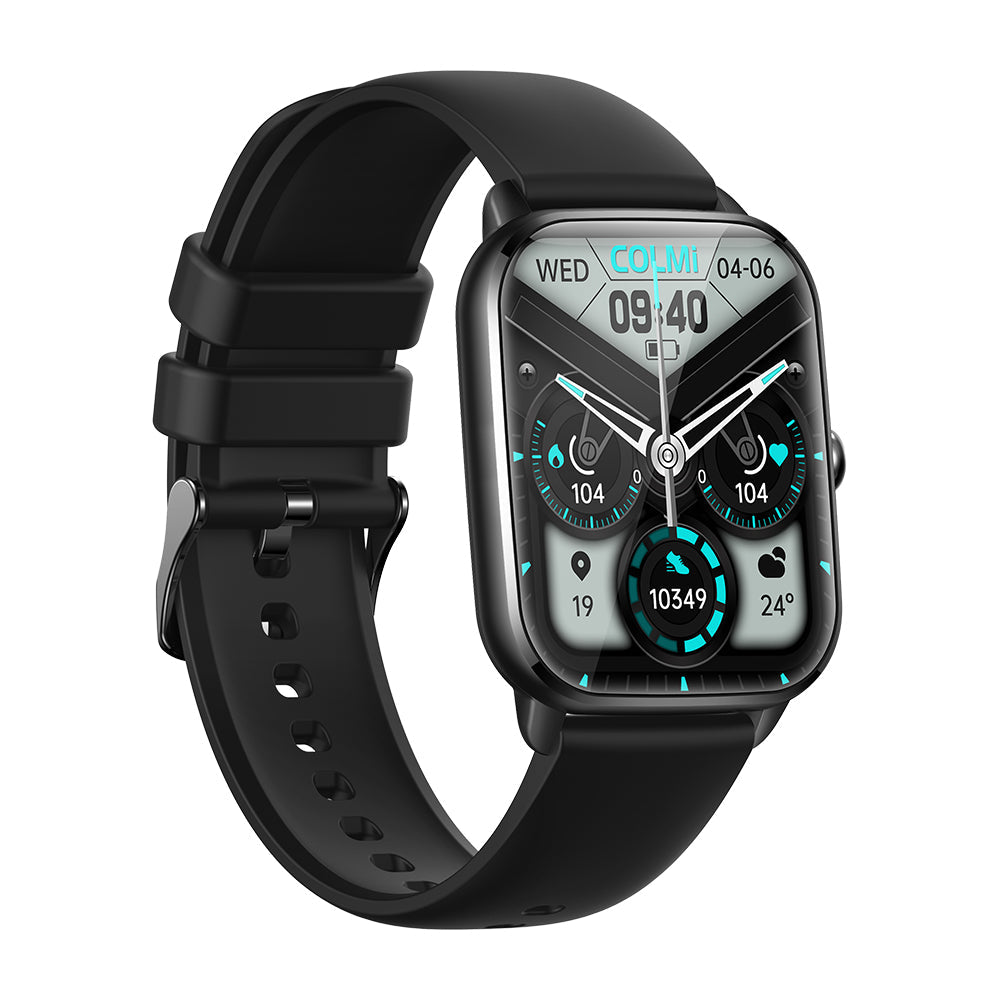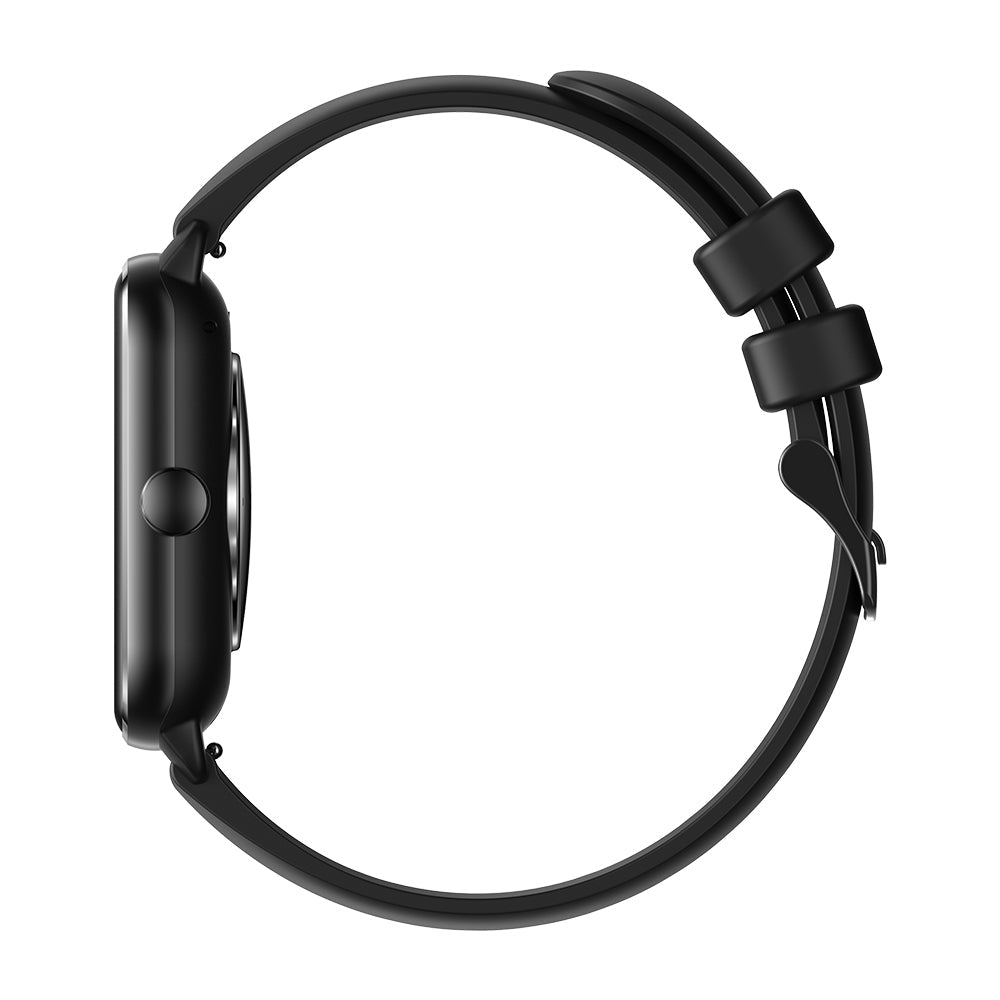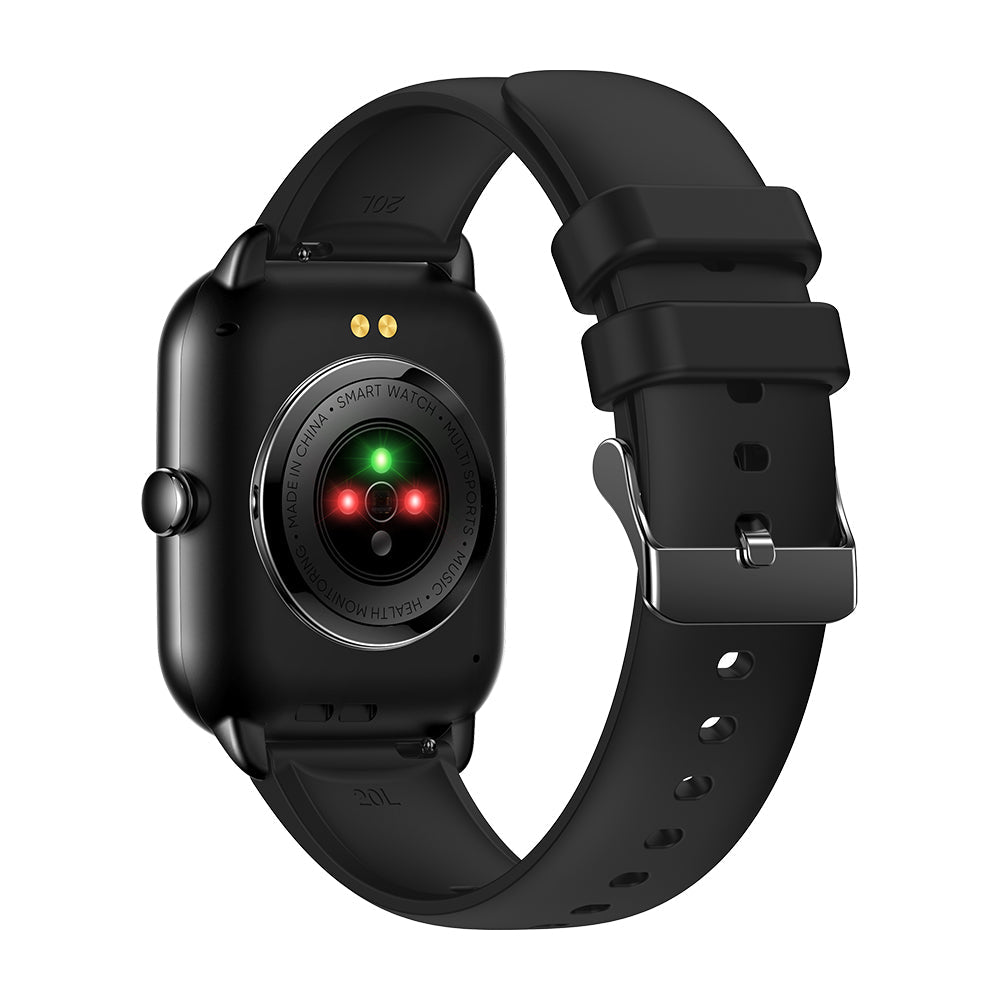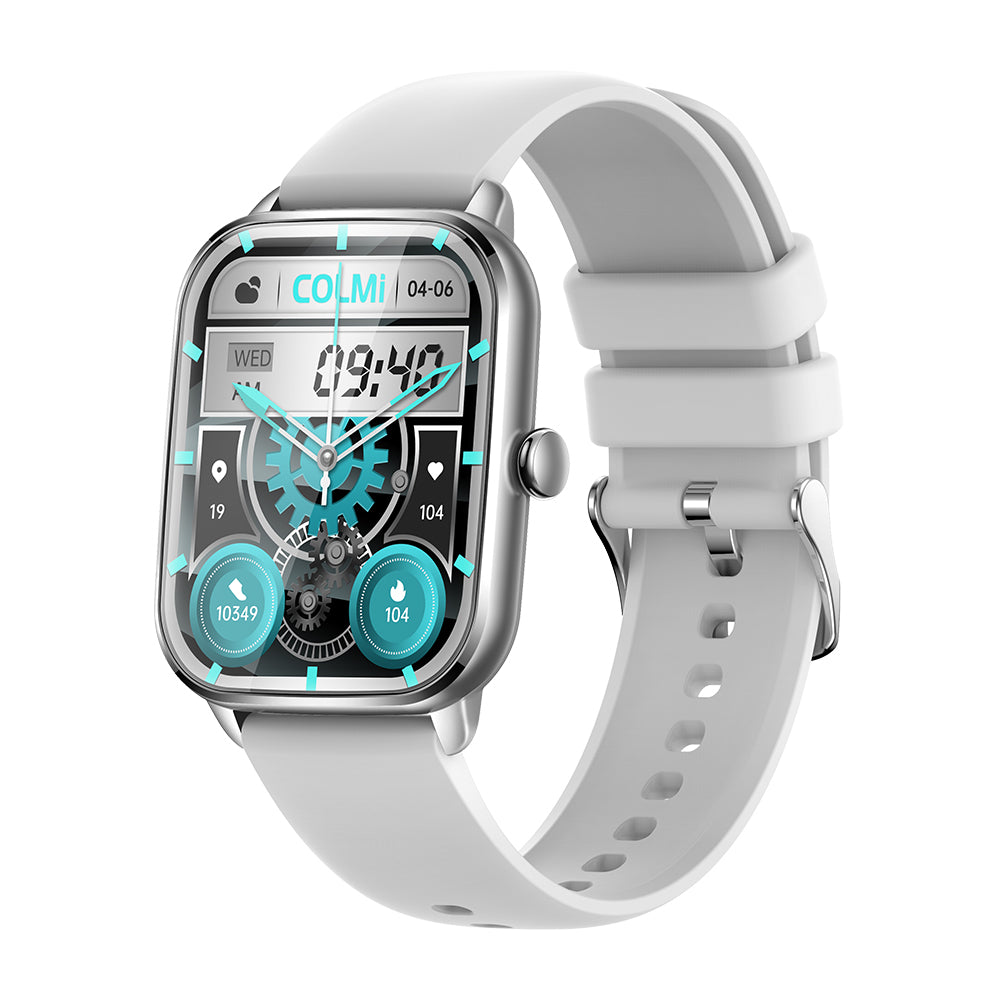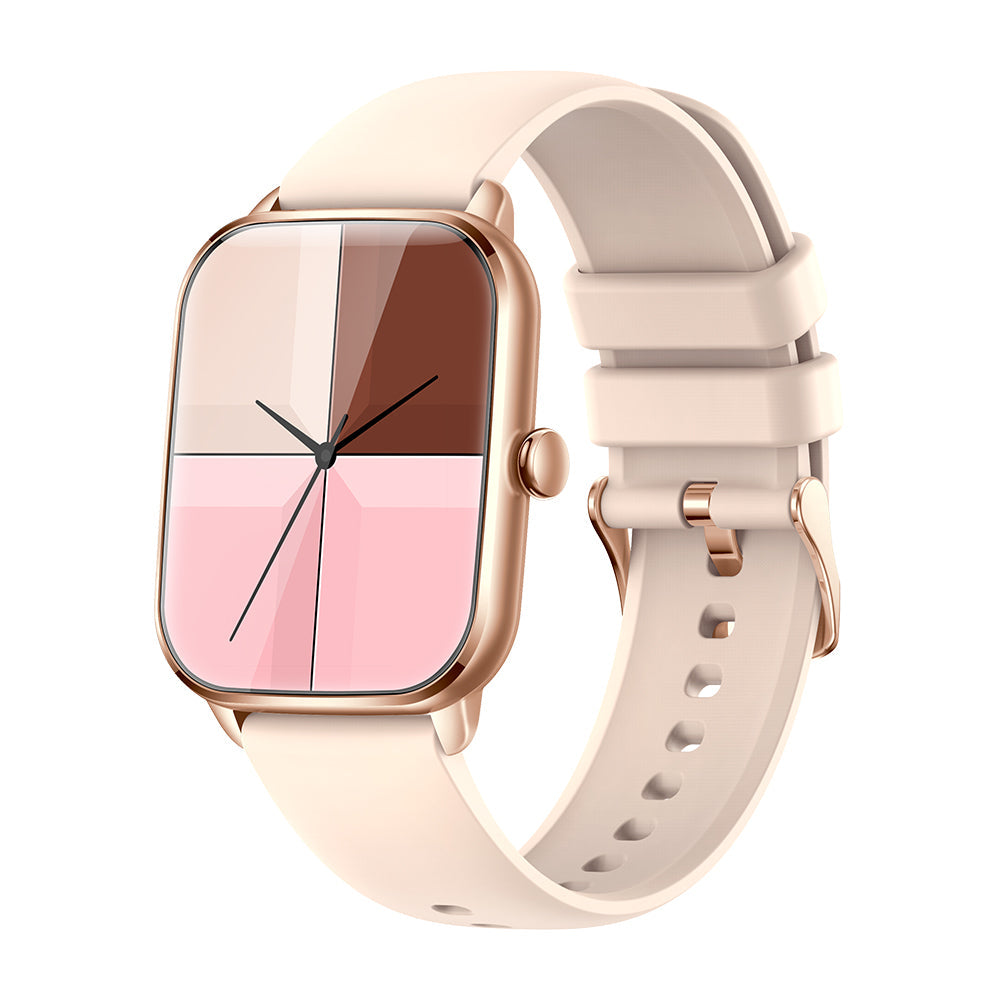 Narrow edge widescreen

The screen size of COLMI C61 is 1.9 inches, the screen is large, the visual effect is good, it is almost full screen, and the screen is clear.

Arc design

The smartwatch with 2.5D arc design has a beautiful appearance and is comfortable and convenient to wear.

Silicone strap

The strap is made of silicone material, which is dirt-resistant and easy to clean, easy to take care of, and the wearing length can be adjusted freely.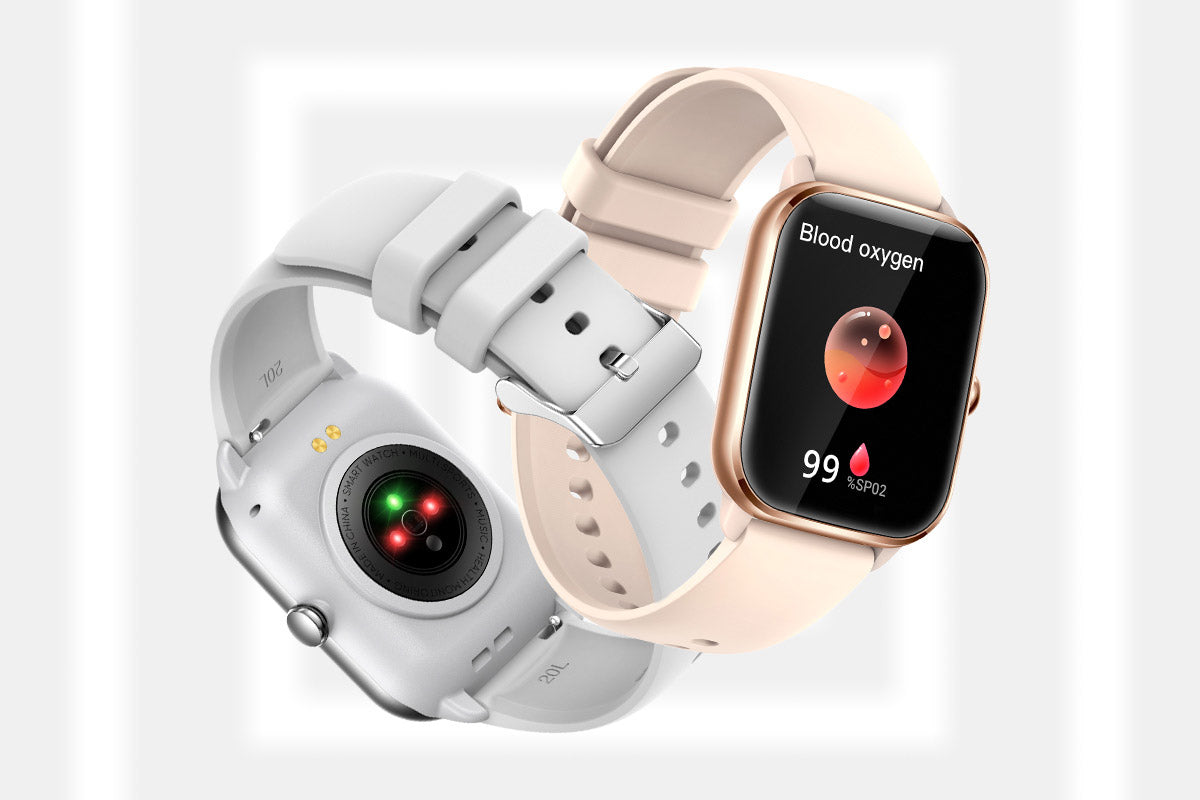 True Blood Oxygen
COLMI C61 with red light true blood oxygen technology can measure blood oxygen saturation more accurately and protect your health and safety.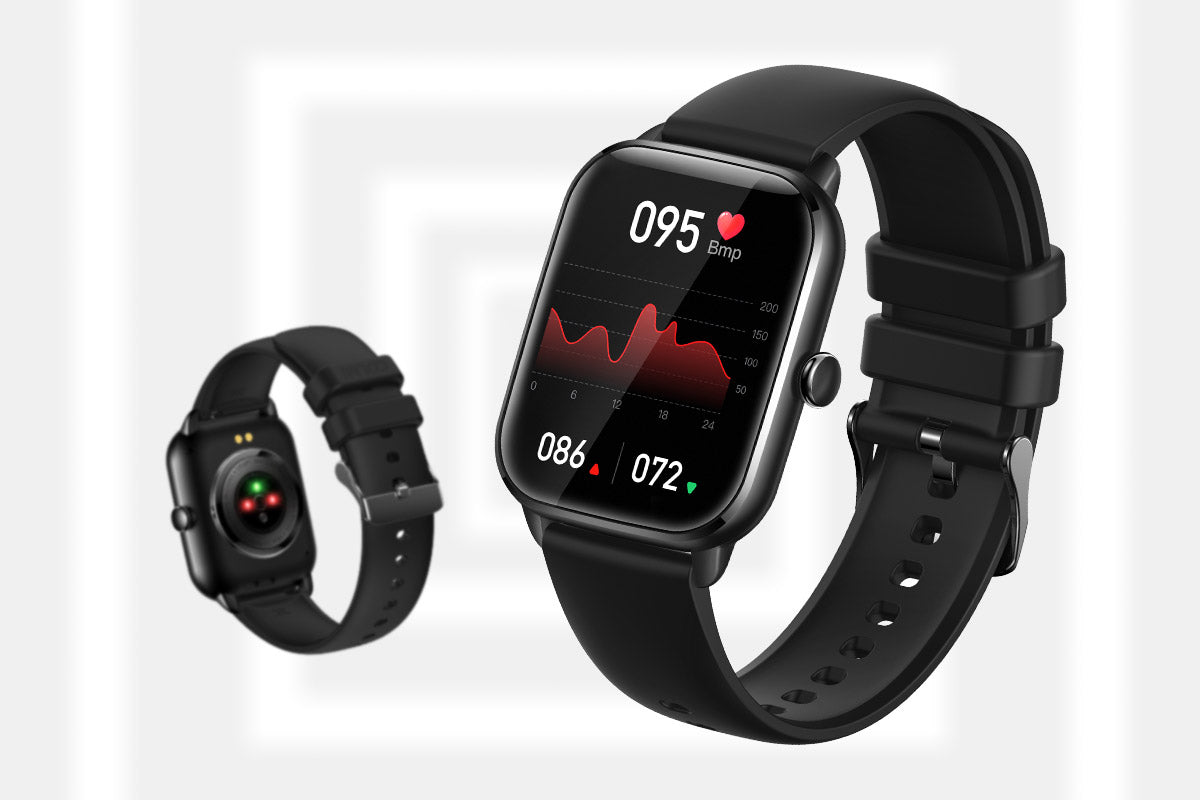 Measure heart rate
With heart rate monitoring function, you can monitor your heart rate 24 hours a day, and you can also set heart rate warning to remind you of heart rate changes at any time.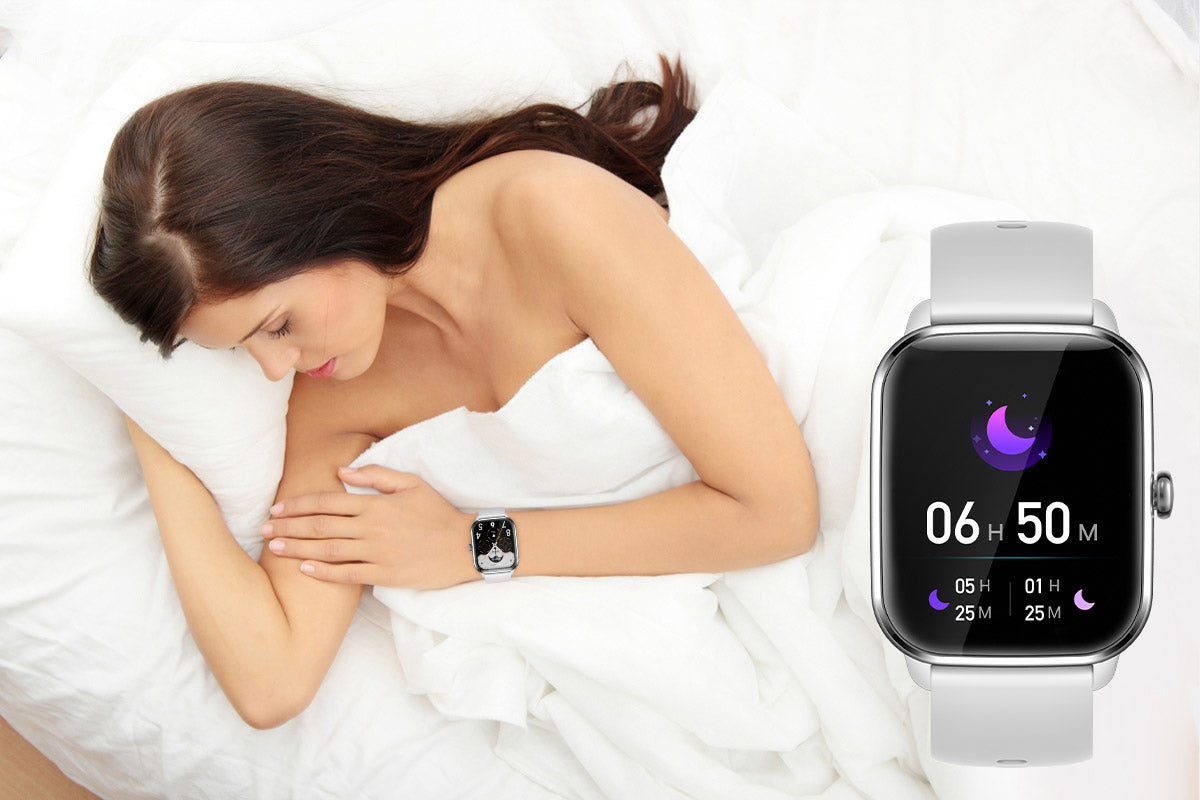 Sleep monitoring
Supports monitoring of sleep status, can record your deep sleep, light sleep, awake time, and effectively improve your sleep quality.
Call function

Connect the mobile phone audio Bluetooth to talk, and can also make calls and remind incoming calls. It is a small assistant in work and life.

Synchronization information

A smart watch that can synchronize mobile phone information, carry out message reminders, and support WhatsApp, QQ, Wechat, Facebook and other information.

Voice Assistant

COLMI C61 can talk directly, control music playback by voice, understand weather conditions, etc. It is smart and convenient to use and frees your hands.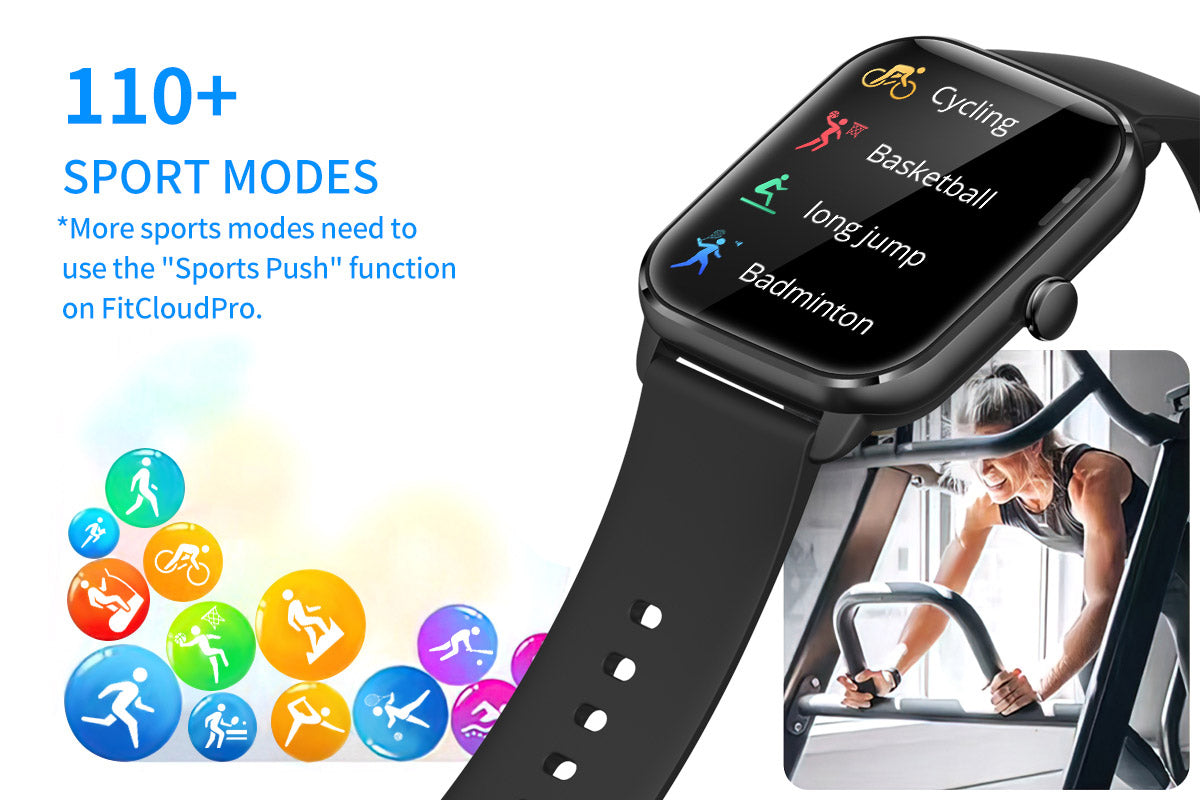 Sports mode
COLMI C61 has more than 110 sports modes, which can be added to the watch through the "Sports Push" function of the App, so that you can keep exercising and full of vitality.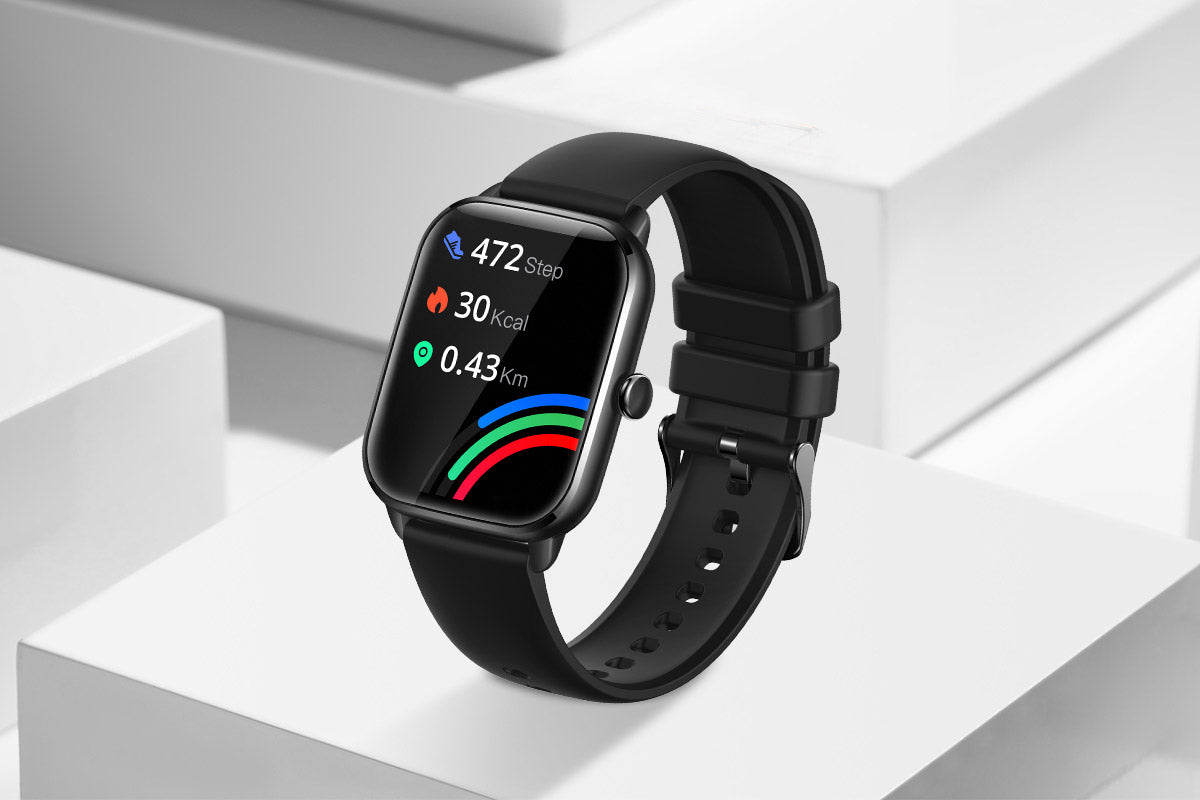 Record data
COLMI C61 can record your exercise data, including exercise time, exercise steps, heart rate, etc., and can also generate exercise reports.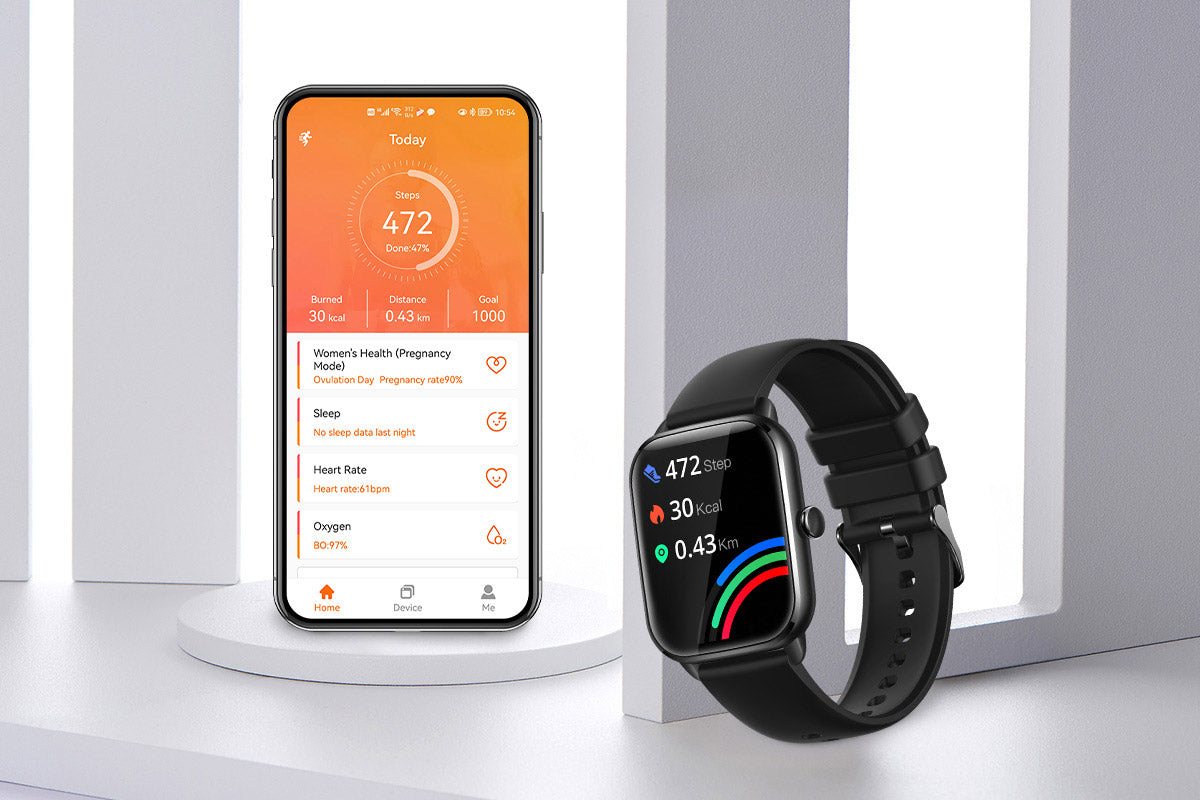 APP connection
After connecting to the APP, you can view more data, and you can record daily, weekly, and monthly exercise conditions, allowing you to exercise better.
COLMI C61 Smartwatch Spec
PREVIEW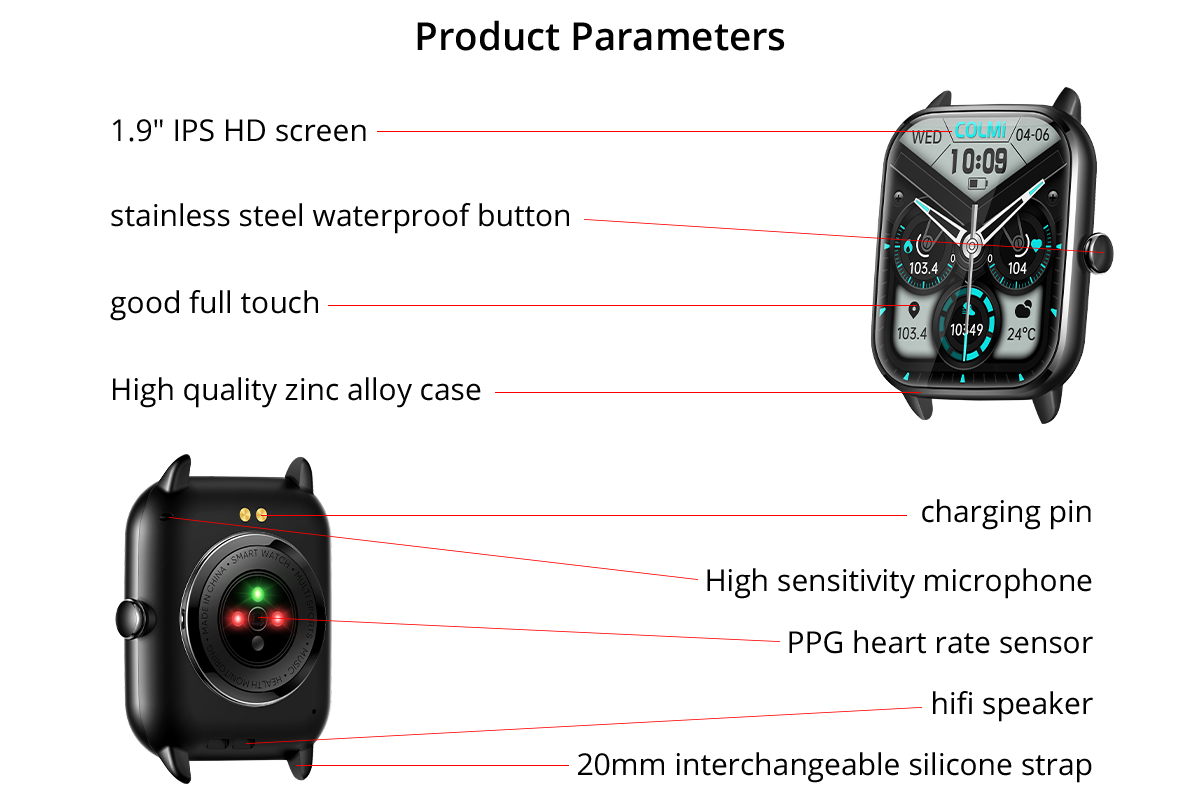 ---
Software
---
Android4.4 and above IOS8.0 and above HarmonyOS
---
Simplified, Traditional, English, German, Russian, Spanish, Portuguese, French, Japanese, Arabic, Dutch, Italian, Czech, Greek, Hebrew, Indonesian, Korean, Malaysian, Persian, Polish, Thai, Vietnamese, Finnish, Romanian, Turkish, Croatian, Ukrainian
---
English, Chinese simplified, Chinese traditional, German, French, Arabic, Czech, Greek, Spanish, Japanese, Persian, Italian, Korean, Polish, Portuguese, Russian, Finland, Swedish language , Thai, Hungary, Slovakia, Croatian, Albanian, Turkish , Ukraine
---
User Interface, Telephone, Contact, Call records, Voice assistant, Step data, Workout*, Workout records, Heart rate, Sleep, Blood oxygen, Messages, Weather, Physiological cycle, Music, Breath training, Stopwatch, Timer, Alarm clock, Collection code, Business card, Set time, Calculator, Calendar, Find phone, Menu style, Screen time, Power saving mode, Vibration intensity, Watch Faces, QR code, Date & Time, Password, System info, Shutdown, Reset
---
Steps, Burned, Distance, Goal, Physiological cycle, Sleep, Heart rate, Blood oxygen, Wallet, Bussiness card, Notifications, Alarms, Activity reminder, Drink reminder, Dial library, Local dial, Weather, Sports Push**, Raise to wake , Elevated health monitor, Automatic health monitor, Find watch, Wrist preference, Hour style, Frequent contacts, Shake phonegraph, Device Version, Restore Factory Settings, Exercise goal, Units, FAQ, Women's health, Wechat sports(For Android and Hammoy), Apple health (For iOS), Settings, Suggestions
---
In The Box
---